Police have within a year registered a sharp rise in the number of frauds on an
e-commerce
website meant for buyers and sellers of used goods.
The number of frauds has gone up from 225 in 2018 to 378 in the first five months of this year, prompting the city police to alert people while striking deals on the platform.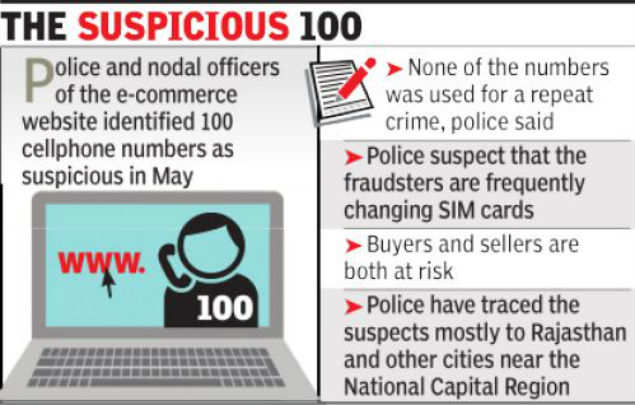 People generally put up used motorcycles, cars, electronic goods and other articles for sale on the website. "We have been focusing much on making people aware about the issue. Yet, the number of complaints of cheating pertaining to the e-commerce website is going up," senior police inspector (
cybercrime
) Radhika Phadke said.
"The fraudsters are targeting both buyers and sellers on the platform," she told TOI.
Explaining the fraudsters' functioning, Phadke said, "Unidentified persons from small towns, mostly in Rajasthan, are uploading photographs of various items on the website for sale. They also mention their phone numbers."
The officer said, "Once the customers contact them, they tell the prospective buyers to pay some money in advance. Sometimes, they tell the customers to pay the entire amounts for the items. Their preferred mode of payment is money transfer through various e-wallet applications. Once they receive the money, the tricksters do not respond to the buyers' phone calls or text messages."
The sellers, too, fall prey to the cybercrooks' ploy. "The suspects pose as buyers and mostly use service of a particular cellphone-based
unified payments interface
(UPI). They send 'pay requests', with the amounts mentioned, on the application. Once the buyers click the 'pay request' button, the funds get transferred to the suspects' accounts," she said.
Phadke said the cybercrime cell has successfully investigated many cases. "Most of those arrested are from Alwar, Deeg, Bharatpur, Rupbas Naka and adjoining areas. Many suspects are even minors."