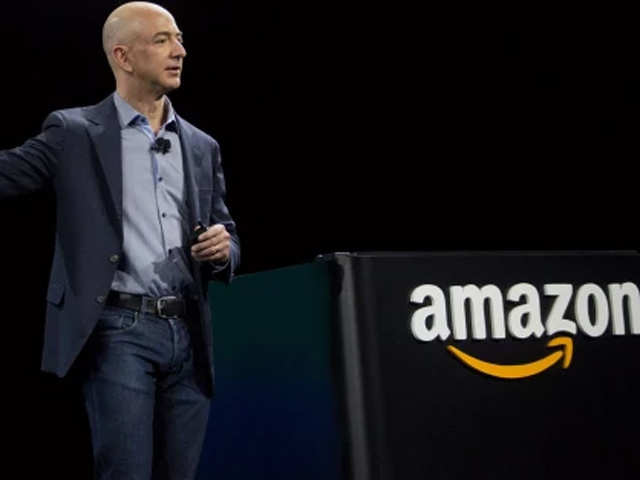 Amazon
CEO and the world's richest man
Jeff Bezos
has got richer. Riding on Amazon's quarterly results, the company's market capitalisation crossed the coveted $1 trillion mark. What the surge in Amazon's market value and share prices did was increase Bezos' net worth as well. As per a report by CNBC, Bezos' personal net worth rose roughly by $12.6 billion. Bezos, as per CNBC, owns about 57 million shares of Amazon, which he can sell.
As per Bloomberg Billionaires Index, Bezos remains the world's richest man with a total estimated net worth of $116 billion.
Bill Gates
, co-founder of
Microsoft
, is second on the list with a similar net worth as Bezos.
Meanwhile, Amazon became the fourth US company to hit the $1 trillion market capitalisation value. The first US company to do so was Apple followed by Microsoft and Google.
Amazon's quarterly results showed that Amazon Web Services, its cloud business' revenue grew by 34% year-on-year. AWS had revenue of close to $10 billion in the fourth quarter.
The company also revealed that it now has 150 million Prime Members. "Prime membership continues to get better for customers year after year. And customers are responding — more people joined Prime this quarter than ever before, and we now have over 150 million paid Prime members around the world," said Jeff Bezos, Amazon founder and CEO, in a press release.
Amazon India recently announced it will have 10,000 electric vehicles in its delivery fleet by 2025. The announcement was made recently when Bezos had come to India. The investment in electric vehicle is part of Amazon's recent co-founding of The Climate Pledge, a commitment to meet the Paris Agreement 10 years early by achieving net zero carbon emissions by 2040.