KOLKATA: Tatas have started direct selling to consumers through
Tata Cliq
in the ecommerce marketplace, converting it into an entity which will become a seller holding inventory, and not just a marketplace. The group has also invested over Rs 300 crore into this entity — its highest-ever — to support this expansion of role, two industry executives said.
The executives said this could be termed as an almost last ditch effort to spruce up the three-year-old ecommerce business since Tata Cliq has largely remained a fringe player in the Indian ecommerce landscape dominated by Walmart-owned
Flipkart
and
Amazon
.
Earlier, retailers, brands and other sellers would sell through Tata Cliq and the platform would earn revenue from it.
The new model may lead to higher sales and faster growth, since as a seller in the platform Tata Cliq is now holding inventory whereby it can directly control price, supplies, delivery and offer discounts to consumers, the executives said.
As per regulatory filings made by the company to Registrar of Companies and sourced from
Veratech Intelligence
, Tata Cliq has raised around Rs 313 crore from its promoters —
Tata Industries
— this year till now. There has been fresh fund infusion in December and January.
The executives said a bulk of this money will help Tata Cliq expand into the inventory model. Tata Cliq has already started trials of direct sales with television and home appliances of top brands like
Xiaomi
and
Voltas
, and will expand into other high value and fast-moving categories like smartphones to gain volume.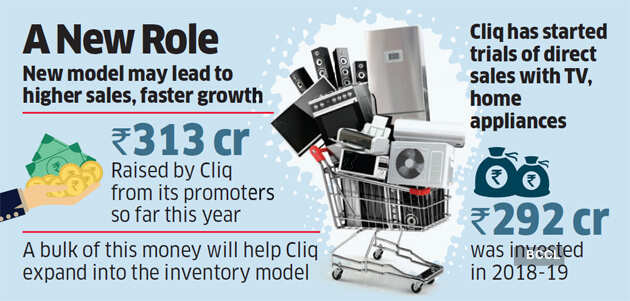 In response to an email, Tata Industries executive director KRS Jamwal said the ecommerce business is experimenting with selectively acquiring head inventory, specifically for enhancing customer experiences, better delivery mechanisms and for enhanced margins. "This does not necessarily imply that we are implementing the inventory model," he said.
Jamwal said the current infusion of capital is part of routine infusions of capital and will be ongoing. "Unlike a VC-funded company, capital is not raised in bulky rounds," he said.
An industry executive said Tata Cliq is approaching to sell exclusive models so that it can have a distinct space in the market as a seller and has a long-term target to generate a majority of the platform sales by itself.
Veratech founder Mohit Yadav said the shift to inventory model gives a unique advantage to Tata over Amazon and Flipkart as it is an Indian company and will not be tied down by the stringent foreign direct investment regulations in ecommerce. "It will help Tata leverage better use of data that can be used to achieve higher margins through decreased cost on logistics," he said.